It is over 20 years since the famous Grey-Green coach company ceased to exist. The transport world's popular household company had been bought out by Cowies, and on 1st January 1998 it became part of the Arriva group. In April 1998 the registered company's name was signed off into history. The name lived on in the 24, 188, and other tendered London bus routes a bit longer, with a few buses surviving in Grey-Green livery until December 1998.
June 2018 is of course the 90th anniversary of Grey-Green's first ever commercial timetabled services which ran between London and Ipswich.

Certificate authorising the transfer of Grey-Green to Arriva 2/4/1998
Grey-Green Coaches was a household name however it was a subsidiary of the George Ewer Company based in Stamford Hill. Practically all its vehicles had George Ewer listed as the parent company and Grey-Green as the operating company.

The older complete pre Cowies livery seen in this lovely example at Victoria Station June 1980. I think the orange on the front was added just after the Cowies take-over. In due course this coach would become Cowies' green, white and orange.
The 24 route between Hampstead and Pimlico, operated by Grey-Green, was practically the first Central London bus route to be tendered out under the privatisation schemes touted by the Tories. Grey-Green had already successfully tendered for some of the first routes outside the central area. The 24 was a big step forward in terms of this new tendering philosophy. and Grey-Green's buses began on this route in 1988. The buses' liveries were grey, green, plus a bit of orange which originated from Grey-Green's new owners, Cowies.

Grey-Green coaches later had a bit of orange! Coach sporting the new Cowies livery
The winning of the various bids for the different London bus routes was ironically the beginning of the end for Grey-Green. Its quite ironic to see privatisation ultimately saw one of the country's best ever road transport companies off into the sunset.
George Ewer himself was originally a green grocer. In 1885 he acquired a horse van to help with his deliveries around Stamford Hill and Stoke Newington, thus the George Ewer/Grey-Green empire has always remained loyal to Stamford Hill.
Writing about Grey-Green is very complex and a book would do the task better. This post fills in some gaps but is not intended as a comprehensive history of Grey-Green and there are some excellent books on the company such as the example below.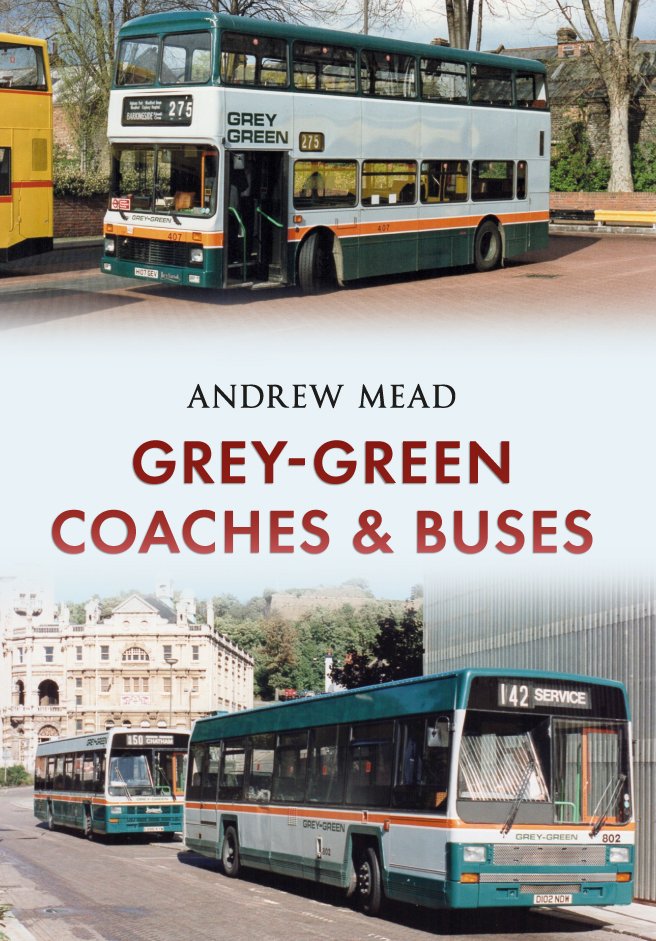 Andrew Mead's book on Grey-Green. Source: Twitter
Grey-Green (to those who fondly remember their coaches) is rather an odd choice for a name as grey wasn't always the colour used alongside the greens. Early liveries were a two tone green whilst the later ones consisted of a white/green livery as shown on the company's official postcard. In the final years a grey/green/orange livery, or a white/orange/brown livery were also used.
It wasn't just coaches the Ewers operated, they had a fleet of lorries, and little known to many, for a while car hire too was part of the business. In the sixties the company purchased five Scammell Routeman tankers and leased these out. They came compete with 'Grey-Green' emblazoned on the sides. There were also several large Bedford vans available for jobs such as removals or deliveries. The haulage side of the business was eventually moved to Dalston.

One of Grey-Green's Scammel Routeman Lorries
George Ewer didn't have any coaches to start with. It was his sons who had branched out into the coach businesses – although not always successfully. Ultimately the sons' businesses were taken over by Ewer's. James Ewer had his own coach company however his vehicles were almost always working on behalf of his father's business, and this clearly shows who had the upper hand when it came to getting clientele.
A picture featured on Flickr shows one of George Ewer's early excursions. Its seen at Bermondsey in the early 1920s. The coach is specifically being operated by his son James Ewer, but was under hire to George Ewer, who had by then opened offices at 78 Lombard Street in the City.
Clearly Ewer's began their coach business by hiring vehicles from the sons and this is what the Bermondsey picture shows us. Eventually Ewer's decided to run their own coach services and soon enough the first regular coach services between London and Ipswich began. The date this started was June 1928.
Another son, Albert Ewer, based in Shoreditch, ran a company called Eva's Motor Coaches. He had originally worked for his father's grocery business but followed his brother's example and set up his own coach company. He took over Joseph Eva's coach business in 1931. Unfortunately this particular son of Ewer's wasn't very good at running a coach business. Not only that he resorted to some dubious practices in order to try and gain some ground. Ultimately he was caught red handed and was hauled before the courts. Thus the end of another of the Ewer sons' forays into the coach business.
By the time Eva's Coaches had collapsed, Ewer's had remained primarily focused upon the haulage business even though James' company was now part of its portfolio. After Albert Ewer's fleet was transferred to Ewer's in 1934, this turned George Ewer's Grey-Green coaches into a hugely influential company – one most people in London's East End came to know and love.
On the back of its successes for the Ipswich and East Anglia routes, Ewer's regularly bid for new licences on commercial coach routes out of London. In 1931 it was granted one to operate between London and Paignton. Whether this was actually done it is not known however the Devon coasts were eventually worked by timetabled Grey-Green services.
The classic route from London to the East Coast resorts began in the early 1930s. Grey-Green's fare from London to Yarmouth in 1933 was about 18 shillings compared to rail which cost 20 shillings nine pence. However whether these early services were a true success is not known, for the coach trip could take five hours, and the rail journey about two and half hours via Beccles. In our particular case Grey-Green were easier as one did not have the hassle of getting into Central London to get the train.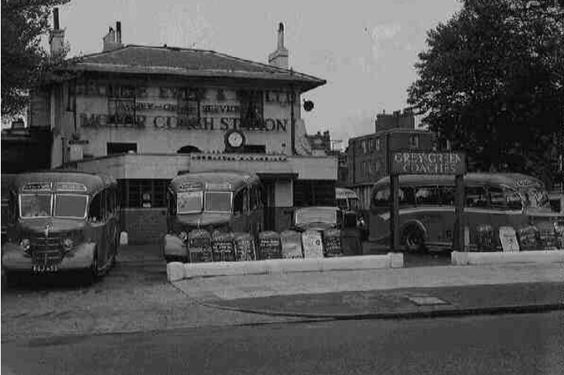 Ewer's base Stamford Hill 1947. Source: Twitter
Of the other Ewer sons, Henry was the most successful of the lot. He became the company's mastermind and was responsible for Grey-Green's continued expansion. He bought up all the coach companies he could get hold of and managed to hold off all the other competing companies! The acquisitions were numerous and included Ardley Bros Coaches in 1953, Bee Line, Black and White Coaches, Central London Motors, Criterion Coaches, Eclipse Motor Coaches, Monty's Super Coaches, Orange Luxury Coaches and the Prince Omnibus Company.
Ewer's retained Orange's garage at Effra Road and operated those services almost as a separate company, although both operations had some cross-over in terms of vehicle allocation, maintenance, whilst advertising for coach tours and holidays often featured both companies. A picture of Orange's garage at Brixton can be seen here.

Leaflet advertising both Grey-Green & Orange holidays
By the mid fifties Ewers had almost two hundred coaches under its arm, A good number of these were from the 1953 Orange take-over. To cater for this Ewer's had a new coach station opened in 1954 on cleared land just to the rear of Pentonville Road in King's Cross. Grey-Green and Orange were the exclusive users of this new facility.

Opening of Grey-Green/Orange's King's Cross coach station 1954. Alan Lennox-Boyd Minister of Transport attending
The new King's Cross station was accessed via Omega Place just off Caledonian Road. The main exits however were in Northdown Street.

2018 view showing where the pair of entrances to Ewer's King's Cross coach station once stood in Northdown Street
To provide further capacity for the huge fleet expansion the Stamford Hill premises had to be enlarged. The work began in 1952 (just after the opening of Grey-Green's new Edmonton coach station) and took three years. These new premises finally opened in July 1955 when the Mayor of Hackney participated in its official opening. He gave a speech and then operated the new depot's electrically operated doors. A stage coach drawn by four horses, followed by two Leyland Royal Tiger 41 seat coaches entered the new depot in joyous celebration.

Poor quality pic showing the new Stamford Hill garage's official opening 1955
Ewer's/Grey-Green had quite a number of London offices, here's a list of all those they had in the late 1950s. Proper coach stations/depots were found at several of these locations, including Bethnal Green, Brixton (as Orange's), Edmonton, Holloway, and Leyton – all being a result of Ewer's acquisition of other coach companies.

Ewer's list of coach stations/depots/booking offices 1950s
As part of this program of expansion, Ewer's also built two new depots at Ipswich and one at Great Yarmouth. That at Ipswich served as a passenger pick up point too, however the Yarmouth one was simply a garage and servicing facility. The picture below shows the larger Ipswich depot at St Margaret's Street.

Ewer's Ipswich Coach station 1990. By this time it had become a garage for car repairs
Grey-Green opened a new coach station during the mid 1950s in Bethnal Green, presumably to alleviate some of the problems East Anglian services faced at the London terminals, including severe lack of capacity for all the new services. It seems their new King's Cross facility just couldn't cope. Bethnal Green coach station was specifically also used by Fallowfield and Britten coaches, another company acquired by Ewer's. Bethnal Green's coach station remained in use until the 1970s.
I cant find pictures of Bethnal Green coach station in use however took these pics that show its now a Kwik Fit centre:

The pair of exits from the former coach station on Canroberts Road, Bethnal Green.

View from Bethnal Green road showing the single entrance and the pair of side exits at right
In December 1960 Ewers introduced a new concept – car hire! During the 1970s the company acquired Burrells of Ipswich, a car dealers and promptly expanded its car sales and hire portfolio although I do not know when it ended. Motor racing celebrity James Hunt opened Ewer's new car showrooms in Ipswich during 1976.
In 1966 Frederick John Speight was joint managing director and general manager of George Ewer and Co Ltd. He had begun as an office assistant in 1925, later becoming the company's secretary in 1930. Speight was one of the longest serving employees of the company. He was succeeded by A. C. Vincent as the company's secretary. Vincent in turn succeeded Speight in January 1969.
At the company's peak it employed close to 900 on its coach services so I would imagine there was well over a thousand employed throughout Ewer's complete empire. There arent any official figures to indicate the actual number employed by Ewer's. Staff were employed right across a large swathe of Southern England from Norfolk right through to Devon in local offices, vehicle mechanics, and many other positions. The drivers themselves were of course the company's biggest asset.
The late sixties saw the introduction of the Eastlander service. This was an express coach between Cheltenham and Felixstowe/Harwich for onwards connections to Europe. Ewer's shared the pool of services with Associated Motorways and Premier Travel. This was extended several times and National Coaches joined the pool in due course. I am not sure of the route's full history or whether it was ultimately replaced by the Southampton-Bremen route as featured below.

1978 article on the UK-Europe services provided by Grey-Green and others. Source: Twitter
This new regular coach service from Victoria to Amsterdam made a lot of economic sense because it was simply an extension of the coach services to Parkeston Quay. It was extended to Hamburg in early 1979 and services were ultimately pooled with National. It seems that both routes were operated for a while, eg Cheltenham-Hamburg and Southampton-Bremen and it may have been both routes had an advantage in being able to utilise available resources to a maximum.
There are very few pictures of the Stamford Hill base available for embedded use on blogs. Most of those on Flickr have their embedding feature disabled so I cant show these which is a shame as there are some great pictures of the old coaches in colour, as well as the buses for route 24 and other deregulated London bus routes. The depot itself was demolished a number of years ago. Here are a few pictures of the old Ewer site at Stamford Hill taken in December 2017:

The site of Ewer's garage at 53-55 Stamford Hill N16 is now this block of flats

The roadway that led round the rear to Ewer's garages and workshops is now Reizel Close

Rear of Reizel Close looking to the main road – this would have once been a view of Ewer's garage complex
This picture on Flickr shows a nice line up of older Grey-Green coaches at Stamford Hill in 1967.
Even in its last years as an independent company Ewer's kept on buying other companies. They acquired a local coach company, Viney's Motor Coaches Ltd of Tottenham, in October 1964. 1971 saw the company acquire Birch's who in their final years were based at Kentish Town. Birch's were even older than Ewer, having started horse omnibus services between Pimlico and Mansion House in 1847. This acquisition enabled Ewer's to break into new areas especially the south Midlands as Birch's services ran between London and Wellingborough/Rushden.
By 1980 the George Ewer Group had been taken over by T Cowie. The Grey-Green name was retained by Cowies' because it was such a recognisable brand. It was under this new management regime that Grey-Green won many of the deregulated London bus routes.
In 1987 Grey-Green took over the first of its tendered London bus services. This was run under the label 'Eastender Bus' and most were Dix vehicles (this also being part of the Cowies group) with orange and brown livery. A hybrid Dix/Grey-Green livery can be seen in this example.

Grey-Green brochure 1983, now with Cowies' orange colours added
In due course the Dix/Eastender branding was dropped and it became 100% Grey-Green. A year later these buses too began on Route 24, then eventually the 125, 141, 173, and the venerable 298 (still at this time stretching out into the Hertfordshire countryisde to one of my favourite London bus destinations – South Mimms Clare Hall Hospital.) See the pictures on this London Bus Routes page.
The Cowies take-over was contentious. It occurred at a time when Grey-Green was on a meteoric rise. Grey-Green's directors sought to bid for another company, this being a tractor firm, and shows that Ewer's were still actively looking for new outlets to acquire. The move was deemed to be illegal and as there had not been any previous precedent it ended up in the courts – but not before Cowies had called an extraordinary general meeting and sacked all of Grey-Green's directors. The document below, extracted from Cowies' 1981 Annual Report, details Cowies' view of what happened:

Cowies annual report 1981 on the Ewer acquisition the previous year
Ewer's old Stamford Hill base was eventually shut down and operations moved to the re-opened Stamford Hill bus garage. In 1998 Cowies became Arriva Buses and that signalled the end for one of London's most celebrated buses and coach companies with its iconic grey and green livery.
This is the first of a two part series. Part two, in preparation, covers Grey-Green's classic East Anglia routes.